Fresno State Pro Day Report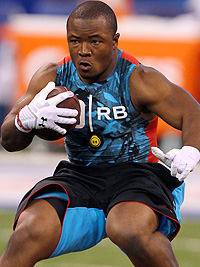 On a dark and gloomy afternoon, scouts representing 19 NFL teams walked down the ramp at Bulldog Stadium to see hopefuls trying to fulfill their dream of playing amongst football's best during Fresno State's Pro Day.
Going into today, headlines were circling as scouts were not only here to see Fresno State's main attractions like safety Phillip Thomas and Robbie Rouse, but also looking to find a diamond in the rough that can fill their draft board in the later rounds.
One of the biggest questions for scouts today was whether or not Rouse could improve from the 4.8 40-yard dash he ran in last month's NFL combine. And it didn't take long as Rouse ran an improved 4.56. That time sat well with him and in the end he contributed it to being on the field that he dominated defenses on for four years.
"I felt like when I came out here I'm home," Rouse said. "I felt like I came out here and was myself and did what I've been doing my whole life, so I felt like this was a good experience."
For Thomas, his quickness and skills were put to the test and he performed as advertised. He improved his forty time as well, running a 4.53 compared to the 4.65 he ran at the combine, while also looking strong in individual drills.
Thomas now moves on to individual workouts where seven teams have already lined up to see him including the Steelers, Cowboys, Eagles and Panthers which he sees Thursday. While the drills are the bread and butter of scouting, Thomas feels his intangibles shouldn't be overlooked.
"I like to talk about football, get on the board and explain coverages," Thomas said. "I think that's where I excel and I'm excited to those type of things."
But as the two top players lived up to expectations, a couple of former Fresno State linebackers put on a show today that definitely made an impression and had scouts talking throughout the day.
Shawn Plummer and Travis Brown improved their stock performing well throughout the day and put up some impressive numbers, including Plummer's 40 inch vertical that was the highest amongst participants.
"When you feel good its ends up that everybody else feels the same way and at the end of the day that's a good feeling," Plummer said.
Plummer came into today knowing what was on the line and even though he felt good about where he was, he knew his future rested on today.
"You think you got all this time to prepare and then all of a sudden it's 'oh shoot' and you got that one day to show everybody what you got," Plummer said. "It's nerve racking."
Brown was the other linebacker that felt upbeat at the end of the session, seeing some of his times lining up with the best times posted at the combine and getting interest from scouts. But for Brown, Pro Day was a day that was long awaited.
"It's one of those days you hope for your entire college career," Brown said. "Ever since high school it's been my dream to at least get a chance to try out for the next level."
With the draft a little more than a month away, the 19 participants now must wait and see where their name comes up on the draft board.
Today's participants included:
- Travis Brown LB
- Michael Butler TE
- Matthew De Los Santos, WR
- Terrance Dennis, DB
- Rashad Evans WR
- Beau Fryer, DB
- Michael Harris, RB
- Richard Helepiko, OL
- Matt Hunt, OL
- Jerry Kelly, RB/WR
- Milton Knox, RB
- Tristan Okpalaugo DE/LB
- Shawn Plummer, LB/S
- Robbie Rouse, RB
- Andrew Shapiro, K/P
- Gerome Surrell, WR
- Phillip Thomas, S
- Anthony Williams, DL (Put up an impressive 37 reps on the bench press)
- Cristin Wilson, DB